News événement
Game Awards 2020 : The Last of Us Part II grand gagnant, la liste des vainqueurs
Izokay -
Rédaction jeuxvideo.com
Les Game Awards ne sont pas qu'une cérémonie faite pour annoncer de nouveaux titres et contenu vidéoludique, ils sont aussi là pour récompenser les meilleurs jeux et personnalités du secteur de l'année passée. Récapitulatif détaillé de vainqueurs de la soirée et des nommés.
Ca n'était pas un secret que The Last of Us Part II était l'un des grandissimes favoris de la cérémonie, rythmée entre annonce de jeux et récompenses plus ou moins importantes. TLOU a donc décroché 6 statuettes dont les deux plus prestigieuses, à savoir la réalisation (direction de jeu) et le titre de jeu de l'année. Pour ce dernier prix de la soirée, Neil Druckmann a appris la nouvelle en visio.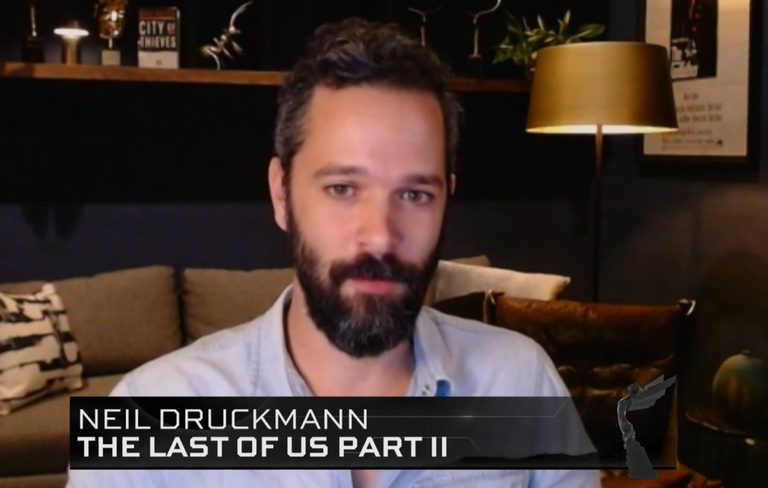 Vous trouverez ci-dessous la liste des différents gagnants de la cérémonie (en face de l'intitulé et en gras) ainsi que les jeux nommés dans chacune des catégories, les vainqueurs étant ajoutés et la news mise à jour en direct.
Jeu de l'année : The Last of Us Part II
Meilleure direction de jeu (vision créative et innovation) : The Last of Us Part II
Meilleure bande originale : Final Fantasy VII Remake
Meilleur jeu d'action / aventure : The Last of Us Part II
Meilleur jeu familial : Animal Crossing : New Horizons
Meilleur support communautaire : Fall Guys : Ultimate Knockout
Meilleur jeu eSport : League of Legends
Meilleure performance d'acteur : Laura Bailey (Abby dans The Last of Us part II)
Meilleur jeu continu : No Man's Sky
Meilleure direction artistique : Ghost of Tsushima
Meilleur jeu d'action : Hades
Meilleur jeu VR ou réalité augmentée : Half-Life : Alyx
Meilleur jeu de sport / course : Tony Hawk's Pro Skater 1+2
Fresh Indie Game (meilleur nouveau studio qui a sorti son premier jeu en 2020) : Phasmophobia
Meilleur scénario : The Last of Us part II
Prix de "l'impact" (jeu ayant une dimension sociale ou un message fort) : Tell Me Why
Meilleur jeu multijoueur : Among Us
Meilleur jeu indépendant : Hades
Meilleur sound-design : The Last of Us Part II
Meilleur RPG : Final Fantasy VII Remake
Meilleur jeu de stratégie/Simulateur : Microsoft Flight Simulator
Meilleur jeu de combat : Mortal Kombat 11 Ultimate
Meilleur jeu en termes d'accessibilité (nouvelle catégorie) : The Last of Us Part II
Meilleur jeu mobile : Among Us
Créateur de contenu de l'année : Rachell "Valkyrae" Hofstetter
Alanah Pearce (Streameuse/Podcasteuse JV)
Jay Ann Lopez (Fondatrice de Black Girl Gamers)
Nick "Nickmercs" Kolcheff (Streameur JV)
Timothy Jon "TimTheTatman" Betar (Streameur JV)
Rachell "Valkyrae" Hofstetter (Streameuse JV)
A Lire aussi :