Gears Of War est avec Ghost Recon l'un des titres les plus impressionnants de la Xbox 360. Je vous laisse le constater de vous-même sur les images qui suivent. Un seul bémol : le frame rate est pour le moment un brin chaotique, mais le lead designer d'Epic assurant la présentation de la démo (jouée par un autre membre d'Epic) a précisé de lui-même que les choses s'arrangeraient. On peut faire confiance à Epic à ce sujet. Alors venons en au jeu et à son gameplay, un shooter à la troisième personne qui tente de combiner une action intense et constante à une progression prudente et basée sur l'usage de la couverture. Même si le jeu se présente comme un gros shooter, pas question de foncer au milieu de la rue sans prendre le soin de se planquer régulièrement derrière tout ce qu'on peut trouver, et si on en trouve rien, il suffira de mettre un bon coup de latte dans une table pour se trouver une planque.
L'une des intentions affichées des développeurs étant de surprendre en permanence les joueurs, on comprend aisément que Gears Of War sera mis en scène, ce dont on a pu s'assurer en observant religieusement différentes missions du titre. Explosions, dialogues, cut scene, alternance de moments calmes et de tempêtes de plomb, Gears Of Wars devrait assurer le show on dirait.
Un spectacle auquel on pourra assister à 2 soit dit en passant puisque le mode coopératif sera une valeur sûre du soft, accessible à tout instant, même via le online. Vous jouez peinard, paf, un pote vient se joindre à vous... et vous lui dites dans le micro-casque "Mais casse-toi je veux pas te voir !" (oui enfin moi je suis pas très sociable alors c'est ce que je dirais). A contrario, aucun mode multijoueur de type Versus n'est à l'ordre du jour, Epic préférant se focaliser sur la campagne solo. Et c'est très bien comme ça, parce qu'elle a l'air d'envoyer du steack.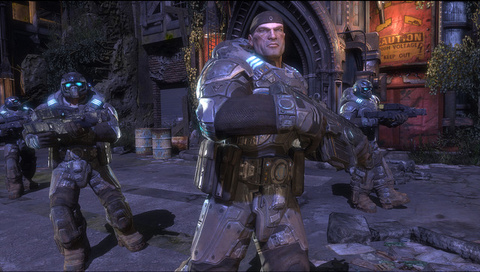 Mis à jour le 24/05/2005