Page Dossier
Call Of Duty 2 - Xbox 360
Le FPS hollywoodien et la seconde guerre mondiale ne lassent pas on dirait. Soit, alors allons-y pour un nouveau Call Of Duty qui ira explorer de nouvelles contrées cette fois-ci. En sus des classiques Europe de l'ouest et de la Russie, l'Afrique du Nord sera elle aussi au programme de l'une des 3 campagnes du jeu, 3 campagnes que l'on pourra, pour une fois, jouer dans l'ordre que l'on souhaite. Pour ce qui est des nouveautés, les points les plus importants mis en avant par les présentations du jeu concernent l'amoindrissement de l'aspect linéaire de la série. Le jeu reste scripté en diable, mais il sera maintenant possible d'aborder un niveau à travers divers chemins. L'air de rien, c'est un sacré pas en avant dans ce type de shooter qui nous a habitué à des niveaux "couloirs". Les objectifs eux-mêmes n'auront pas à être accomplis dans un ordre fixe. Reste à voir tout ça en pratique bien sûr. Toujours est-il que le level design se montre attirant, fort complexe et varié au sein d'un seul et même niveau (en l'occurrence l'une des missions en Afrique du Nord). On passe allégrement d'un dédale de petites rues à l'intérieur d'une bâtisse en ruine avant de tomber sur une esplanade bardée de canons.
Promesse habituelle, l'IA est annoncée comme la plus fabuleuse du monde. On notera surtout la possibilité d'effectuer des tirs de suppression permettant de mettre au point des tactiques de contournement. Dans le cadre de CoD, on se contentera de penser qu'il s'agit d'une manière de dire que l'IA est aujourd'hui assez futée pour ne pas lever la tête pendant qu'on tire. Ce qui est déjà très bien. Ceci étant, sur la démo on a tout de même pu voir un certain degré de laxisme de la part des petits allemands, souvent un peu long à la détente lorsque le gentil développeur se trouvait face à eux.
L'élément clé de Call Of Duty demeure en tout cas dans son ambiance. Une fois de plus, Infinity Ward prouve que c'est son dada. L'immersion dans le champs de bataille devrait se montrer encore plus percutante et faire passer le genre hollywoodien à un stade supérieur de mise en scène, notamment grâce à l'ambiance sonore qui a recours à un système de communication dynamique entre les personnages qui commenteront de manière presque interactive ce qu'il se passe à l'écran. Basiquement, ça s'annonce sans surprise comme un Call Of Duty, mais les amateurs de ce style pourraient en avoir pour leur argent. On fera cependant remarquer que la physique est totalement absente du jeu, ce qui fait un peu tâche pour ce genre de grosse production mais qui s'explique assez bien quand on sait que la physique oblige à une certaine maîtrise de ce qu'on fait quand on lance une grenade. Et c'est pas moi qui le dit, c'est Infinity Ward, CoD, c'est "just for fun".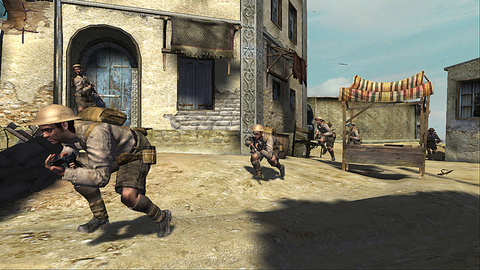 Mis à jour le 24/05/2005 à 18:00