Le nouveau volet d'une des séries de jeu de stratégie temps réel les plus connue est sur le point de sortir. Bon, ce n'est pas pour tout de suite puisque le titre n'est annoncé que pour la fin de l'année. Cependant, nous avons pu le voir sur l'E3 dans d'excellentes conditions puisque la présentation privée se déroulait dans une meeting room de Microsoft à l'écart du bruit et de la foule. De plus, le jeu était projeté sur un écran 16/9ème géant ce qui magnifiait encore un peu plus les splendides graphismes du jeu. Pour l'anecdote, il faut dire que les développeurs ont bossé pendant près d'un an juste sur le rendu de l'eau ! Le soucis du détail est donc énorme. Hormis les graphismes qui ont fait un sacré bon en avant, un élément essentiel a fait son apparition : le moteur physique. Cela influe sur le jeu à plusieurs niveaux : tout d'abord pour les dégâts qui sont désormais localisés sur les bâtiments. En clair, lorsque vous tirez sur une construction, les dégâts se situeront exactement au point d'impact et le feu peut se déclencher sur une partie seulement du bâtiment. Une autre des influences du moteur physique c'est la façon dont les unités réagissent face à leur environnement. Si un boulet de canon tombe à côté d'un soldat, celui-ci sera projeté en l'air et retombera au sol de façon réaliste. Mais le plus beau c'est que l'animation change selon la situation (distance par rapport à l'objet, intensité du choc...) ce qui fait qu'on n'assiste pas à une simple séquence répétée à l'infini. Impressionnant !
Côté scénario, le jeu se déroule juste après Age of Empire 2 : Age of Kings c'est-à-dire à la découverte et à la conquête du nouveau continent, et plus précisément entre les années 1500 et 1850. 8 civilisations sont jouables : les britanniques, les espagnols, les portugais, les allemands, les russes, les ottomans, les néerlandais et bien sûr les français. Chacune a évidemment ses propres caractéristiques, ses bâtiments et unités propres. Une des grandes nouveautés du jeu c'est la présence d'une "homecity", une ville située très loin de l'action, en Europe, qui gagne de l'expérience et monte de niveau en fonction de vos actions (accomplissement de mission, anéantissement de camps ennemis...). Une fois que vous gagnez un niveau, vous pourrez choisir l'aspect à développer : économie, guerre... Il faudra faire des choix drastiques sur l'arbre des technologies car il est impossible de tout développer contrairement aux opus précédents. Une fois que vous avez acheté une amélioration, elle sera disponible in game et vous pourrez l'acquérir (par exemple une amélioration de la productivité des mines que vous pourrez acheter de façon classique en cliquant sur une mine comme dans les volets précédents).
Autre amélioration, les animaux qui se baladent sur la carte ont des réactions un peu plus logique qu'auparavant et ils s'enfuient dès qu'une de vos unités s'approche d'eux. Un mode multijoueur sera évidemment présent et vous pourrez vous affronter jusqu'à 8 joueurs sur des cartes spécifiquement dédiées. Au final, on peut dire que même s'il n'a rien de révolutionnaire, Age of Empires 3 nous a fait une bonne impression et il va falloir ronger son frein avant de pouvoir y jouer puisque ce titre ne sort qu'à la fin de l'année 2005.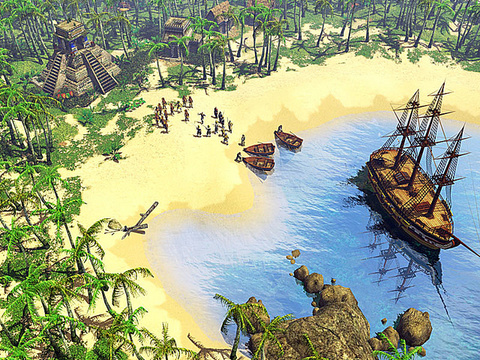 Mis à jour le 24/05/2005