jeuxvideo.com > You are the managing director of the English studios Revolution Software. In1996 you created the famous adventure game : Broken Sword on PC and PSOne. One year later, the second opus came out successfully. Then you worked on several projects like In Cold Blood, or El Dorado. Now, you are working on Broken Sword 3 : The Sleeping Dragon, maybe one of the most waited for adventure game. Where are you in the development of the game ? When do you think the product will be released ?
Our initial task was to define the game vision which is, broadly, to reinvent the adventure game in a full 3D environment - something that has not been achieved to date. From that we have written the story and generated conceptual art. Currently the artists and technical people are working to define a stunning and original art style. The early results are very exciting.
We are now pulling elements together into the first playable version. Obviously it's still early in the development stage - we've only built two in-game areas and modelled few characters - but already we're hugely excited by the results. The move into 3D will open up whole new gaming experiences for Broken Sword players, and we're expecting this game to be as revolutionary as the first two, in terms of style and production values. We're aiming for a release in 2003.
jeuxvideo.com > Could you describe the scenario of the game, to give gamers who loved the first two opuses, a taste of what to expect in Broken Sword 3 ?
Powerful seismic events are shaking the world - and it's not down to global warming. Something much more sinister is emerging. An Ancient Conspiracy, the Secrets of the Templars, and a fiendish source of pure Evil are responsible. From the jungles of the Congo to the deceptive calm of the English West Country, from underground pyramids in Ethiopia to gothic castles - time is running out for the Earth and only George and Nico can save it...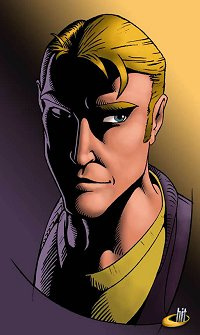 jeuxvideo.com > What are the gameplay differences between Broken Sword 3 and Broken Sword 1 & 2 ?
The two original games were 'traditional' point and click adventures. The reason for their success was broadly for three reasons. Firstly, the production values were very high for the time. Technically and creatively, we pushed the 2D adventure beyond what had gone before, with animations by talented cartoon animators, detailed backgrounds and music from an accomplished composer. Secondly we worked hard to make our obstacles logical and relevant to the plot; avoiding puzzles that frustrated. But equally as important (if not more so), gamers love a great story, and we really concentrated on writing a compelling interactive narrative. Broken Sword: The Sleeping Dragon retains all of these key ingredients, yet moves it into a whole new dimension. With direct control we've been able to add extra gameplay elements - stealth, for example - but the game will very much look and feel like a Broken Sword title.
jeuxvideo.com > After having seen the first pictures of the characters, its seems that George is more aggressive, and Nico more... sexy. What about that ?
Yes... The first pictures that we released of George were intended to be slightly provocative - because we wanted to gauge the reaction. In Broken Sword 1 George was a pretty cool, if slightly naïve, American. We felt that in Broken Sword 2 he came across as weaker. Our objectives are now to get back to what he was previously and bring him into the 21st century. Nico was always quite sexy - I think that she will have an improved hair style! But underneath George and Nico are the same - one of the things we're extremely keen to maintain was the interaction between the duo, and that will feature heavily.
The gameplay for this game will involve more interaction with the backgrounds - the ability to climb onto walls, shimmy etc. To do this convincingly George, and indeed Nico, need to be reasonably fit and strong. However George has not been on a steroids course!
jeuxvideo.com > In Broken Sword 3, do you use an existing graphic engine from another game? (In Cold Blood ?) Or did you build a graphic engine specifically for this new game ?
We cannot use any of our old technology as it was built for displaying pre-rendered visuals. This is totally 3D.
Everything is completely new. We've just appointed a new director of technology, Francesco Iorio, who brings enormous technical expertise to the company. This is allowing us to be much more technically creative. This will result in a more exciting visual look and slicker gameplay. Visually we are pushing for a real sense of style; not hand-drawn and not photo-realistic - something in between. The use of our advanced Virtual Actor System will allow script writers to specify, and for the engine to deliver emotion in the ways that the virtual characters act.
jeuxvideo.com > Broken Sword 3 will be released on X-Box, PC, and Playstation 2. Why not Gamecube ?
Actually, we haven't discounted anything at the moment. We're still in discussions with publishers and format holders, so there really is every chance we could see it on Game Cube - and, indeed, GBA. Personally, I would like to see it on as many systems as possible. We are very ambitious for the game - our aim is to re-invent the adventure genre, so want to give as many people as possible the opportunity to play the game.