Vidéo Gaming Live
World of Warcraft : Mists of Pandaria : 3/5 : La Vallée des Quatre Vents
Après les 2 Gaming Live réalisés il y a plusieurs semaines, nous revenons sur World of Warcraft : Mists of Pandaria. Nous vous proposons d'effectuer à nos côtés quelques quêtes dans la Vallée des Quatre Vents, la deuxième zone de Pandarie, tout en apportant quelques commentaires sur la qualité des quêtes et la linéarité de la progression.
Mis à jour le 17/09/2012
Voir l'historique
COMMENTAIRES
Tous les commentaires (

0

)
Vous devez être connecté pour poster un commentaire.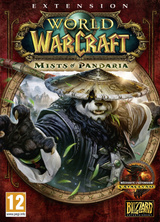 Reportage : World of Warcraft : Warlords of Draenor : L'e-sport sur WoW

04:45 - 31417 vues

05/10/2014

Bande-annonce : World of Warcraft : Mists of Pandaria : Obtenez votre "Deckstrier"

02:21 - 5748 vues

14/03/2014

Bande-annonce : World of Warcraft : Le siège d'Orgrimmar

04:13 - 23707 vues

16/08/2013

Bande-annonce : World of Warcraft : Mists of Pandaria : Le Roi-Tonnerre

02:40 - 54578 vues

27/02/2013

Bande-annonce : World of Warcraft : Mists of Pandaria : Patch 5.2 : The Thunder King

00:58 - 8205 vues

07/01/2013

Bande-annonce : Starcraft II : Wings of Liberty : Les Championnats du Monde Battle.net

00:49 - 8479 vues

15/11/2012

Expéditions inutiles : World of Warcraft : Mists of Pandaria : Les plus grands secrets

10:37 - 52313 vues

14/11/2012

Making-of : World of Warcraft : Mists of Pandaria : Une sortie animée

05:42 - 1498 vues

29/10/2012

Expéditions inutiles : World of Warcraft : Mists of Pandaria : Les gardes du corps immortels

08:54 - 52570 vues

24/10/2012

Expéditions inutiles : World of Warcraft : Mists of Pandaria : La plus grande triche

08:10 - 98805 vues

17/10/2012

Expéditions inutiles : World of Warcraft : Mists of Pandaria : God mode du Goulet de Chanteguerre

11:33 - 63466 vues

10/10/2012

Bande-annonce : World of Warcraft : Mists of Pandaria : Dans le sable

04:03 - 2337 vues

04/10/2012

Expéditions inutiles : World of Warcraft : Mists of Pandaria : Course de Pandaren

12:47 - 42910 vues

03/10/2012

Expéditions inutiles : World of Warcraft : Mists of Pandaria : Soirée de lancement

09:01 - 37392 vues

26/09/2012

Reportage : World of Warcraft : Mists of Pandaria : Soirée de lancement de Mists of Pandaria

05:04 - 25185 vues

25/09/2012

Bande-annonce : World of Warcraft : Mists of Pandaria : Tout ce qui vous attend

06:50 - 2421 vues

20/09/2012

Bande-annonce : World of Warcraft : Mists of Pandaria : Spot TV n°1

00:30 - 2958 vues

19/09/2012

Bande-annonce : World of Warcraft : Mists of Pandaria : Spot TV n°2

00:30 - 1659 vues

19/09/2012

Bande-annonce : World of Warcraft : Mists of Pandaria : Spot TV n°3

00:30 - 1506 vues

19/09/2012

Gaming Live : World of Warcraft : Mists of Pandaria : 3/5 : La Vallée des Quatre Vents

15:46 - 93322 vues

17/09/2012

Gaming Live : World of Warcraft : Mists of Pandaria : 4/5 : La Forêt de Jade

12:21 - 31460 vues

17/09/2012