Un E3 sans The Movies et Peter Molyneux, ce n'est pas vraiment un E3. Le gentleman so british de Lionhead était encore là pour montrer The Movies lors de la conférence pré-E3 d'Activision. Difficile aujourd'hui de nous apprendre de nouvelles choses sur ce jeu qui vous place à la tête d'un studio de cinéma à travers l'histoire d'Hollywood. Je ne vous referai pas l'article sur le jeu qui commence à être connu comme le loup blanc. Mais quelques petites autres choses ont pu être aperçues cette semaine. Si on savait déjà que la forme physique de nos stars, ou leur dépendance à certaines substances en raison du stress seraient des choses à prendre en compte, on apprend maintenant que leur moral jouera lui aussi un rôle dans leur performance mais pas nécessairement comme on le pense. En effet, un acteur dépressif, finalement, ça peut être très bien pour qui souhaite réaliser un film dramatique, son jeu d'acteur étant finalement plus convaincant. Du coup, pourquoi ne pas exploiter un acteur en vogue en le faisant tourner jusqu'à plus soif, ce qui finira par le laminer, le mettant en parfaite condition pour un rôle tragique. C'est fourbe, mais guère plus que ne l'est Hollywood dirait Molyneux. D'ailleurs dans cette veine on pourra même exposer la vie privée d'un de nos poulains en révélant nous-même un ou deux scandales à la presse... Un peu de pub gratuite.
Une fois de plus, Lionhead insiste sur la facilité de prise en main de son bébé qui sera maîtrisé en quelques clics de souris, grâce à une assistance discrète vous indiquant systématiquement l'action la plus logique à effectuer avec un acteur ou un objet. Par un exemple avec un acteur dramatique, un drame. Précisons cependant que dans le domaine du cinéma, la logique n'est pas l'art et que cette assistance n'assure pas un succès maximal.
Enfin au milieu de tout ça, Lionhead nous a surtout offert une démonstration de la mise en pratique finale de The Movies avec un petit film tourné en interne. Histoire de prouver à quel point on peut faire absolument tout ce qu'on veut. Costumes de zombies pour les acteurs, une héroïne humaine, choix des actions (un peu de chorégraphie, de dispute emportée, de meurtre) et surtout une musique bien connue des dance floors mais redoublée pour l'occasion afin de transformer le fameux "I Will Survive" en "You Won't Survive" (et quelle prestation vocale). Et voilà, tout le monde se marre. Ca donne envie.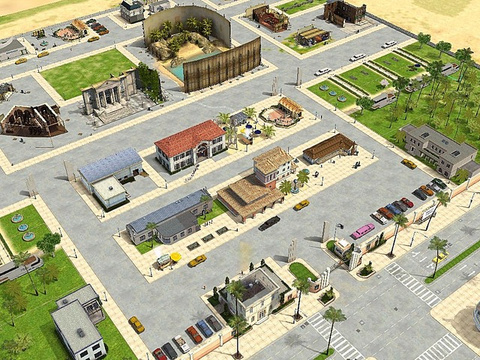 Mis à jour le 24/05/2005