Page Dossier
The Legend Of Zelda : Twilight Princess - Gamecube
Véritable sensation de l'année dernière, le nouveau Zelda revient cette année. Pas seulement pour dévoiler son nom complet The Legend Of Zelda : Twilight Princess, mais surtout pour satisfaire notre impatience et répondre à certaines questions qui trottent dans nos têtes depuis la diffusion des premières vidéos. D'abord un nouveau trailer a permis de comprendre que le jeu alternera entre deux mondes (ou zones) parallèles. Le Hyrule que l'on connaît, et un Hyrule altéré par ce que Nintendo appelle le Twilight. Dans la version modifiée, les ambiances verdoyantes de la plaine et des villages telles qu'on les connaît depuis les premiers pas de Link, troquent leur place avec des paysages plus sombres et menaçants. Les couleurs décrivent une palette de noirs et de gris que seules quelques couleurs plus éclatantes parviennent à percer. Evidemment, la différence n'est pas seulement d'ordre esthétique mais affecte réellement le gameplay du jeu puisqu'en s'aventurant dans le Twilight, Link perdra sa forme humaine et deviendra... un loup ! Ses sens seront alors décuplés, il pourra communiquer avec les animaux et percevoir des choses qu'il ne verrait pas autrement, comme des fantômes qui pourraient l'attaquer. Dans le Twilight, Link fera aussi la connaissance d'un personnage pour le moins énigmatique nommé Midna. Ce personnage verra en Link un moyen d'atteindre le but qu'il s'est fixé (quel but ? on ne le sait toujours pas) et les deux feront route ensemble, sûrement pour venir à bout du Twilight. Si toute la partie en rapport direct avec le loup reste encore bien énigmatique, le reste, c'est-à-dire les passages plus traditionnels où Link chevauche Epona, explore des donjons ou aide les autres villageois, étaient de l'ordre du concret sur le stand Nintendo puisque plusieurs bornes permettaient de jouer à quelques unes de ces séquences, et de savoir du coup quel sera le point de départ du scénario.
Tout commence donc par la découverte d'un Link travaillant dans un ranch. Sa première tache sera de guider le bétail pour le faire entrer dans l'étable. Sur le dos d'Epona, le jeune homme, galope partout pour rassembler les bêtes et les amener jusqu'au lieu voulu. Tout semble alors paisible dans la vie de Link. Les habitants du village apprécient tous le garçon, qui n'hésite pas une seconde à leur rendre service. Le village est effectivement l'occasion d'accomplir quelques petites missions comme ramener un berçeau à une mère ou s'entraîner au maniement de l'épée. Inutile de préciser qu'on retrouve immédiatement, et presque instinctivement, les commandes propres à la série. Tout est naturel, étudié pour qu'on apprécie le jeu, et non pour qu'on bataille à la réalisation de chaque action. Les actions sont justement contextuelles, comme auparavant. S'il est possible de flaner un peu en ville pour sentir l'atmosphère paisible qui s'en dégage, on peut aussi faire avancer le scénario en parlant à la petite Ilia qui nous entraînera vers une petite clairière, avant de se faire kidnapper par des monstres sortis de nulle part (en fait, sortis du Twilight mais ça, Link ne le sait pas encore). C'est pour tenter de sauver la petit fille que le héros partira à l'aventure, et rencontrera très certainement la princesse Zelda, elle aussi présente dans le trailer.
Au fil du jeu, on retrouvera rapidement la balance entre action et exploration, aussi bien dehors qu'enfermé dans les donjons, qu'on nous promet d'ailleurs plus nombreux que ceux de Wind Waker. Ces forteresses garderont le principe des thématiques, c'est-à-dire que chaque lieu fera sien un thème bien particulier. Ceux qu'on a pu voir - et même visiter - ressemblaient à un temple dans la jungle, peuplée de singes qu'il faudra délivrer. Les singes nous aideront à leur tour à franchir, par exemple des crevasses trop importantes. Comme des trapézistes, ils se balanceront la tête à l'envers et Link devra attraper leurs mains pour passer. Parmi les autres séquences montrées, les batailles à cheval s'annoncent tout simplement grandioses. Les ennemis arrivent de partout, encerclant le héros qui doit donner de vifs coups d'épée pour dégager son chemin. Impossible de savoir si ces séquences seront nombreuses dans le jeu, en tout cas elles donnent une touche plus qu'épique à l'épopée. Comme souvent avec les bons jeux, les séquences à la manette sont trop courtes et on voudrait qu'elles durent toujours plus sur un salon. Mais c'est la règle du jeu, Nintendo nous a déjà dévoilé une bonne partie de son prochain grand titre, largement assez pour nous donner plus que l'eau à la bouche. De notre côté, il ne nous reste plus qu'à se repasser en boucle le somptueux trailer et attendre patiemment la fin de l'année. S'il n'y a pas encore de date annoncée, Nintendo France nous a assuré que le jeu sortirait bien fin 2005. L'attente va être longue...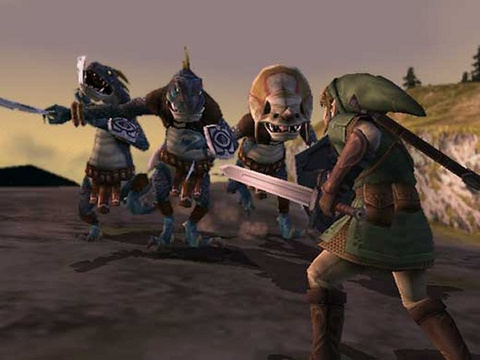 Mis à jour le 24/05/2005