Page Dossier
Dreamfall : The Longest Journey - PC
Suite d'un des meilleurs jeux d'aventure qui soit (The Longest Journey), Dreamfall se déroule en 2219, 10 ans après les événements dépeints dans le premier volet. Cette fois ci, le joueur commence l'aventure avec Zoë, une jeune femme tout ce qu'il y a de plus normal qui commence à avoir d'étranges visions. Au départ, elle ne prend pas ces apparitions au sérieux, mais peu à peu, elle devra s'y intéresser et elle découvrira alors un monde dont elle ne soupçonnait pas l'existence. Pendant l'aventure, le joueur contrôlera aussi d'autres personnages : April (héroïne du précédent volet) et un autre personnage beaucoup plus mystérieux et pour lequel on ne sait pas grand-chose. Mais plus que le scénario, c'est le style de jeu qui inquiétait beaucoup les amateurs de jeux d'aventure puisque Funcom a annoncé qu'il y aurait des phases d'action et de combat. Il est vrai que les puristes des jeux d'aventures point & click n'aiment pas trop ce genre de digressions et ils craignaient donc que ces phases nuisent totalement au jeu. Et bien la présentation effectuée par Ragnar Tornquist, creative director chez Funcom nous a rassuré sur ce point. En fait, Dreamfall fait partie de ces jeux qui laissent au joueur le choix de suivre sa propre voix. En clair, il sera tout à fait possible d'éviter les affrontements et de jouer tout en finesse en résolvant des énigmes et en choisissant soigneusement les réponses que l'on fait aux PNJ pour éviter les combats.
C'est d'ailleurs sur les dialogues que Funcom a insisté lors de la présentation. En fait, lorsque vous parlez à quelqu'un, vous disposez bien souvent de plusieurs possibilités de réponses. Alors que dans la majorité des jeux, vos remarques n'ont aucune influence sur la suite de vos pérégrinations, dans Dreamfall, elles conditionnent les réactions des gens à votre égard. Pour vous donner un exemple, une discussion mal menée peut se terminer très mal et mettre en colère votre interlocuteur au point qu'il ne vous donne pas la précieuse clé dont vous avez besoin pour continuer l'aventure et il faudra donc vous la procurer par un autre moyen. Funcom fait donc tout pour que le joueur se sente libre et que le jeu soit le moins linéaire possible. Une autre des améliorations appréciables concerne les objets avec lesquels vous devrez interagir et les items que vous pouvez ramasser. Il arrive très souvent dans beaucoup de jeux d'aventure que l'on passe à côté de choses importantes pour la suite parce qu'on ne les a tout simplement pas vu. Dans Dreamfall, ce n'est pas possible puisqu'on peut d'une simple pression sur une touche afficher un "cône de vision" qui met en surbrillance les objets que vous pouvez ramasser et ceux avec lesquels il est possible d'interagir. Pratique !
Etant un inconditionnel du premier volet, je peux aussi vous dire qu'on retrouve bien la magie et l'univers si particulier de The Longest Journey dans cette suite. Dès l'introduction, on est plongé dans cet univers onirique. Tout concourt à cela : les musiques, la mise en scène... J'avoue avoir ressenti quelques frissons de plaisir lors de la présentation. On retrouve en plus des lieux familiers (qui ont cependant beaucoup changé en 10 ans) comme le quartier de Venice à NewPort, lieu bien connu de ceux qui ont joué à The Longest Journey puisque c'était le lieu où April avait son boulot au Fringe Café. Là aussi, on entrera véritablement dans la vie des trois personnages que l'on dirigera et je piétine déjà d'impatience à l'idée de revoir April, le monde d'Arcadia, les... Bon, j'arrête là et je vous donne rendez-vous à la fin de l'année pour la sortie du jeu. J'en frémis déjà !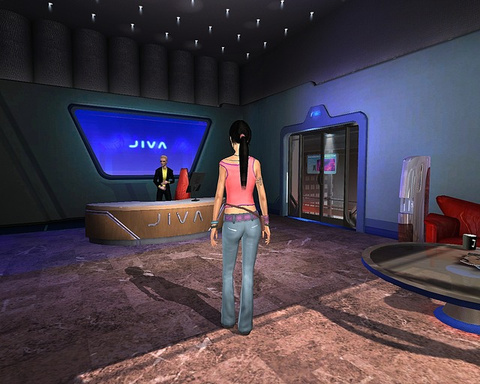 Mis à jour le 24/05/2005