Voilà un jeu de tactique que l'on attendait et qui fait partie des rares surprises de cet E3. Ce n'est pas tant le gameplay qui a été montré lors de la rencontre avec Relic que le moteur du jeu tout bonnement sidérant. On nous a mis en garde avant que tout ne démarre. "Vous allez penser que ce sont des cinématiques, mais tout ce que vous allez voir, c'est in-game". Et comme nombre de personnes refusent d'y croire, la vidéo est systématiquement suivie d'un séance de jeu en direct. C'est d'abord par l'animation des unités que l'on est arraché de son fauteuil. Oubliez les unités qui bougent en 3 animations, là, le moindre geste est décomposé en une multitude de détails, voir les soldats se déplacer, tirer, adopter diverses postures ou se mettre à couvert est déjà en soi un spectacle qui vaut le détour. Le niveau est tellement élevé, que les cinématiques du jeu sont réalisées à partir du moteur, y compris dans les plans serrés sur une escouade déambulant en file indienne sur un chemin. D'ailleurs, un outil simple d'usage sera fourni avec le soft afin que les joueurs puissent créer eux-mêmes leur cinématiques, pouvant ainsi créer des intro aux maps qu'ils concevront.
Mais les environnements profitent eux-aussi de cette qualité de haute volée. Le niveau de détails là aussi renvoie tous les autres STR au vestiaire avec un rendu proche de ce qu'on pourrait voir dans un FPS d'il y a 2 ans. Quant au degré de destruction, il touche au pixel et supporte les effets de la physique. Il ne faut pas seulement comprendre que les bâtiments de démontent avec réalisme, mais surtout que leur destruction aura un impact sur le gameplay dans la mesure où les décombres viendront obstruer la voie, où au contraire, la dégager. Une fois de plus, le niveau de détail va assez loin, suffisamment pour que l'on puisse voir un sac de sable tomber d'un barrage.
Company Of Heroes est sans aucun doute l'un des titres les plus impressionnants de ce salon 2005 sur le plan technique et on regrette tout de même de ne pas en voir vu plus sur son gameplay. A ce niveau, on peut dire 2 choses. La première concerne l'IA qui paraît plutôt élevée. Les unités se déplacent systématiquement de couverture en couverture, sans qu'il soit besoin de les placer au pixel près derrière un arbre, chaque soldat trouvant de lui-même un lieu où il pourra planquer ses fesses. Le second point concerne la possibilité d'ordonner des manoeuvre spécifiques comme le contournement par le flanc avec tir de suppression. il suffira en effet de donner l'ordre et d'assister ensuite au spectacle.
Nul doute qu'avec Company Of Heroes, la STR va faire un très grand pas en avant sur le plan graphique, difficile après vu le travail de Relic de ne pas changer radicalement de regard sur le genre.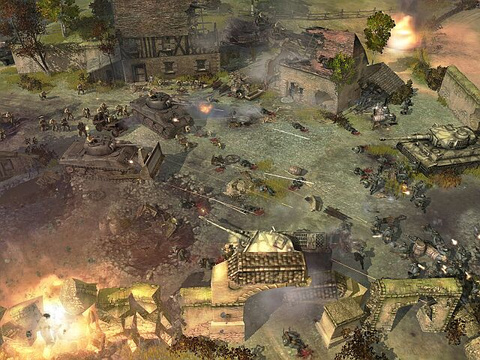 Mis à jour le 24/05/2005